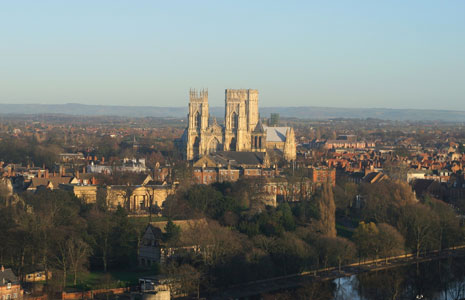 York by day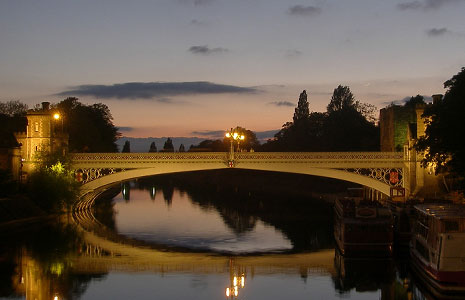 York by night
Bar & Restaurant Reviews
Nouse.co.uk has an extensive archive of bar and restaurant reviews for York. Use our map below to explore our archive, or read the Food & Drink section.
TRAVELLING
The majority of all travel information can be found on the York site, including rail timetables and details of all transport services to and from York. The rail station is about 15 minutes from campus and a short walk into town. To get to campus it is easiest to get the 4U bus (big and purple, like the night bus from Harry Potter!) which runs every ten to fifteen minutes from right outside the station. You don't need to have correct change, although it's better if you have coins instead of notes to avoid lots of long suffering sighing and tutting and slow painful shaking of the head from the bus driver. There is parking available on campus and lots of lollipop ladymen to direct you to your appropriate car park.
MAPS
Maps of campus and all the colleges can also be found at the above link. Don't worry about them too much though, during Freshers week people will be thrusting around left right and centre so you'll be able to pick one up then. There are also lots of very very helpful people in bright yellow t-shirts saying *ARE YOU LOST????!!!!!!* (ok so I added some of the punctuation) in Freshers week, so if you ARE LOST!!!! ask them and they will make you NOT LOST!!! which is truly wonderful.
CASH
There are cash points at the station, in town and on campus. On campus there are two by Costcutters in Market Square (the main bit where all the shops are, the bus stops here as its second stop), one by Vanbrugh College just round the corner and one in James College. The supermarket on campus takes credit cards. There are also a couple in Heslington village, which is very close to Derwent College. It is next to the post office and anyone on campus should be able to direct you there as it's next to the infamous Charles pub…!
FOOD
People often want to do a big food shop while their parents remain emotionally unstable and agree to pay for everything (including luxury items – grab what you can!) when they arrive. As well as Costcutters on campus (quite a diddy one) there is a MAHUSSIVE Tesco's at Clifton Moor (YO30 4XZ? if you're flash and have a TomTom…). There are also big Somerfields and Morrisons close by. Here is a link of all supermarkets near to campus where you can get postcodes and read reviews from previous supermarket lovers of the different shops, perfect if you're a little bit anal… If you arrive on official moving in day then the supermarkets look something like the last days of Rome, so you can always book an online shop before you come. Lots of people do this, all you have to do is stumble to your college in your pj's and meet the man with the van and all your lovely goodies at your allotted time…
PLACES TO EAT WITH YOUR EMOTIONALLY UNSTABLE PARENTS
On this Fresher's mini-site there is a list of lots of places to eat. However, I wanted to mention that if you are driving to York from the South and pass an 'OK Diner' then eat here! They are big American Diners with neon signs outside and they are actually really good. The food is a bit hear-attack-riffic calorie wise but very tasty, good quality, big portions and not too expensive.
and finally…
FREE STUFF YOU GET ON YOUR FIRST DAY
When you arrive at uni, you normally go to your college to check in. Here you should get a free internet cable if your room needs one, as well as your keys and all other important, big stuff. People will also try and shower you with condoms and various other fun supplies so if you have ambitious plans for Freshers week then there's no need to raid the local Superdrug just yet…